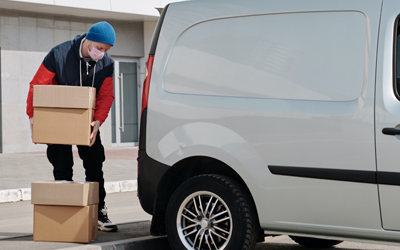 I'm not going to name names, but many years ago, as a young surveyor, I was inspecting delivery vehicles at a place (the location will remain unnamed) and observed one of the worst safety hazards I ever saw in my career. A delivery technician who covered a two-state territory had been in the adjacent state where fireworks were legal, and decided to stock up for the 4th of July. He had about $500 (a lot in those days) worth of fireworks stored in the cargo bay of his delivery van. There was also an oxygen rack full of E cylinders and a "milk can" liquid oxygen unit strapped in securely. There was a bulkhead, everything was secure, NO SMOKING signs were in place, and he had all his safety and personal protective equipment –including road flares stored in a bin next to the fireworks.
Now, there's a lot to unpack with that scenario and needless to say, the organization had some pretty serious follow up after that survey. But I thought of it on a survey recently when an eager new delivery technician asked me about what he should have on the truck and what he shouldn't have on the truck.
For the purposes of our discussion here, let's take out the more complicated set of requirements for commercial vehicles hauling over 1000 lbs. of oxygen—those so-called placarded vehicles. The majority of DME delivery vehicles are simple commercial vehicles, usually a cargo van, an SUV, a sprinter delivery vehicle, or even a hatchback car with a generous trunk and rear storage area.
HQAA has a set of standards "parked" (bad pun intended) conveniently in a module called DELIVERY. The standards contained in that short but impactful module relate to the delivery process and the delivery vehicle. They aren't extremely complicated and there aren't many of them, but their importance is undeniable. The standard names are pretty self-explanatory:
DEL 1: DELIVERY DOCUMENTATION (Information such as the daily delivery logs and manifests)
DEL 2: TRANSPORTATION, HANDLING, AND DELIVERY OF EQUIPMENT (Process issues such as the separation of clean and dirty equipment in the vehicle and whether equipment is secured during transport)
DEL 3: CLIENT RESIDENCE ASSESSMENT
DEL 4: EQUIPMENT DELIVERY & PICK UP (Often observed on site surveys during a home visit ride-along)
DEL 5: VEHICLE MAINTANANCE, LABELING, AND USE (How your organization maintains records of maintenance and repairs for each vehicle)
Of course, other standards touch the delivery vehicle and process. ORG 2, for instance, which looks at law and regulation includes various regulations such as Department of Transportation (DOT) standards.
So, given these standards, what does the surveyor look for in the vehicle? And what are the items that the surveyor should NOT expect to see?
Items that belong on the delivery vehicle include:
A first aid kit (watch for expired products—some kits have product with expiration dates on them)
Hand wash gel
A well-marked and well-understood process for separating clean, patient ready equipment and supplies from dirty equipment
Ratchet style tie downs (as opposed to rubber bungee cords) for securing equipment during transport
Cleaner/disinfectant if you do any curbside cleaning
Safety Data Sheet (SDS) for the cleaner/disinfectant
Personal protective equipment (PPE) including masks, gown, gloves, and eye protection
Eyewash
Any DMEPOS in the vehicle is secured and stored safely for transport
Oxygen cylinders secured in a rack and tanks separated into full, patient ready and empty
Fire extinguisher
Bulkhead or some protective barrier between driver and equipment
Delivery logs and appropriate paperwork based on your policies and also law & regulation.
Items that don't belong on the delivery vehicle:
Petroleum products near oxygen
Food products near the clean or dirty DMEPOS
Unsecured cargo
Too much oxygen (unless you are placarded, you should never carry more than 1000 lbs. of oxygen)
Bungee cords for tying down and securing cargo
Expired product such as eyewash or products in the first aid kit
Fireworks (sorry, had to say it).
Know that the surveyor will look at least one of your delivery vehicles. Often, this is done during a home visit ride along. During the ride along, the surveyor will be riding in the vehicle with a delivery technician, asking questions and learning about the process throughout the drive.
The most common mistakes organizations make in delivery vehicles include not separating clean and dirty equipment effectively, not securing equipment during transport, and having expired product on board.
Like all accreditation standards, the easiest way to prevent these mistakes from happening is to set up compliant and effective processes and do them every day. That way, during the accreditation survey, there's nothing new and no surprises. If you live the process every day, it will be second nature and not something you have to try to remember when a surveyor shows up.