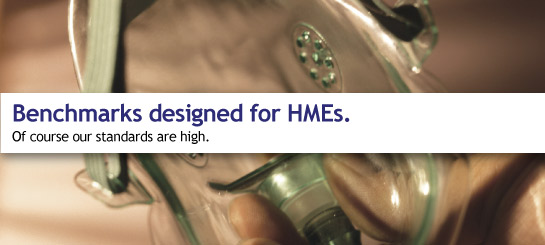 Improve the quality of your business, and your DME policy and procedure manual.
As the quality champions in the industry, our standards have to be high. That's why HQAA offers the same level of quality and business management as the traditional accreditation organizations. In addition, our standards reflect benchmarks that are specific to the DME business and your DME policy and procedure manual, i.e., everything from patient care to business practices to home deliveries. Our limited DMEPOS and full line DMEPOS accreditation program is tailored specifically to your needs.
Full Line HME
Limited HME

This model is for companies that are providing full line HME products that are either rented on a monthly basis or are purchased.

This model is for companies that are providing limited HME products. The

company

:

Does not have a warehouse of DMEPOS, i.e. where rental equipment is stored, delivered from, returned, cleaned and repaired

Does not provide delivery and/or set-up services of DMEPOS on a rental basis in customer residences outside of the supplemental delivery of items where medications are the primary delivery.

Does not provide preventive maintenance, repair, testing or loans of DMEPOS

Does not provide after-hours, on-call support for the use of DMEPOS customers

Core Standards

Organization and Administration
Program and Service Operations
Financial Stability
Human Resources
Infection Control and Safety
Quality Monitoring and
Performance Improvement
Billing and Collections
Provision of Services
Materials Management
Mail Order

Core Standards

Limited companies would get an abridged version of the core standards.

Options Based on your Business

Delivery and Set-up
Retail Services
Rehabilitation Services (complex rehab)
Clinical Respiratory Services
Custom Orthotics

No standards required beyond the abridged core set.

Product Codes Included

All product codes available

Product Codes Included

DM02 Commodes/Urinals
DM05 Blood Glucose Monitors and Supplies
DM06 Blood Glucose Monitors and/or Supplies (mail order)
DM08 Heat and Cold Applications (sale only)
DM22 Transcutaneous Electrical Nerve Stimulators (TENS) and/or Supplies
M01 Canes and Crutches
M05 Walkers
OR02 Orthosis: Prefabricated (non-custom fabricated)
OR03 Orthoses off the Shelf
PD06 Ostomy Supplies
PD08 Tracheostomy Supplies
PD09 Urological Supplies
PE03 Enteral Nutrients
R07 Nebulizers and Supplies
S01 Surgical Dressing
OR04 Penile Pumps
M04 Seat Lift Mechanisms
SO2 Diabetic Shoes/Inserts – Off the Shelf
SO3 Diabetic Shoes/Inserts – Custom
Meeting the standards online — and offline.
While HQAA places great emphasis on thorough online documentation review, our on-site surveys are every bit as meticulous. All site visits are unannounced and not only verify the submitted documentation, but include detailed observation of patient care and processes. As a result, HQAA consistently garners high customer satisfaction ratings with their accredited providers.

"We strongly believe that going through this process has made us a stronger company. The HQAA surveyors brought a professional, refreshing approach to the survey process ... offering a wealth of business advice that far exceeded their role as surveyors."
— Susan Kelly, President, MetroCare Home Medical
---
---