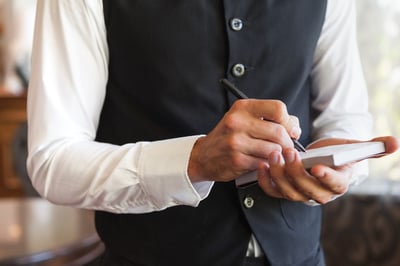 There is a restaurateur in Columbus Ohio, let's call him "Aaron," who has opened and operates dozens of high-end, upscale restaurants in and around the Columbus area. There are several steakhouses, seafood, Italian, and other "concept" restaurants that bear his name. His name on a place guarantees a following and customers flock back for the good food and the good experience. I've been to many of his places and they never disappoint. The food is sometimes outstanding, sometimes just pretty good, but the service is consistently the best in the industry. I've never eaten in one of his places—in fact, I've never talked to anyone who's eaten in one of his places—where the service was anything less than impeccable.
There's a story-- which is perhaps true, or perhaps an urban legend about Aaron. Supposedly, a regular customer at one of is restaurants brought his wife in for dinner. They yucked it up in style: cocktails, appetizers, steak & lobster, a couple bottles of wine, the works. The waiter brought coffee and asked them about dessert. "This is our anniversary, a special occasion. On our first date, we went to an ice cream stand and both ordered pistachio ice cream. What would make this special night even more special would be if we could have a bowl of pistachio ice cream to share," the guy mused to his waiter. The waiter knew without checking that there was no pistachio ice cream and told the customer what they had. The couple decided to just have some coffee—and went away basically very satisfied with an excellent –as usual—meal. When the owner heard about this, he shook his head and said he wished they could do better. There was a grocery store across the street from the restaurant, and Aaron suggested that his staff could always send someone across the street to buy something a customer wanted. It would have been easy enough to cross the street and get the customer the ice cream he was dreaming of to complete the evening and give him an outstanding experience. Since that day, in orientation and training at any of Aaron's restaurants, new employees learn that anecdote and are told that they are empowered to "cross the street and buy a quart of pistachio ice cream" if that's what it takes to give a customer an outstanding experience. I've never personally tested the concept, but the service at these restaurants has never failed to impress me.
So, how do we translate that outstanding service experience to our medical equipment industry? And do we even want to go above and beyond in this era of declining reimbursement?
Well, keep in mind that in our industry, "service" is really all we have to compete with other DME companies on. Let's face it: we all get basically the same reimbursement for a hospital bed or oxygen or a brace. We can't run half off sales, or use coupons. Prices are set by the insurance companies and Medicare, and by the bids we and our competitors submit. Even if we wanted to cut our prices to attract new customers, the reimbursements are so low that there's literally no room to do it. The prices are set, and competition has nothing to do with it.
Service is where we compete! Providing excellent service can and will pay off in the long run. It enhances add on sales and helps customers develop an appreciation for your company's efforts. This appreciation can translate into loyalty. As an example, consider one company's experience providing a hospital bed to a Medicare patient. Discharged on a Friday afternoon, the competitors all begged off on the referral. But a company agreed to help and delivered out a hospital bed—even waiting until the customer got home from the hospital "after hours." The friendly, "can do" service representative patiently helped the family decide where to set the bed up, set it up efficiently, and made several helpful suggestions about setting up other furniture, making sure the customer could see the television, and removing throw rugs that could be a slipping hazard when the customer got up for the day. Because of the excellent service they received, the family utilized the services of the company for mobility aids as the customer's medical condition improved. They also bought a lift chair for the customer's spouse a few months later. They could have found a lift chair at a "big box" store, probably for a little less money; but they opted to buy from a company they knew and were impressed with.
Excellent service pays off other ways as well. Loyal, happy customers are the folks who will write a letter of recommendation for you. They are the people who are happy to tell their doctor or hospital discharge planner what a marvelous experience their interaction with you was. Several companies I've talked to have had customers call and advocate on a company's behalf to help them get on an insurance panel or provider's list.
Finally, there's an intrinsic value to doing a good job and it's good for both the employee and the company itself. Staff report much higher levels of job and career satisfaction when they work somewhere where their work is appreciated in a tangible way. Higher wages and bonuses are always a powerful incentive, but don't underestimate the power of a pat on the back and a "job well done" comment from a customer and/or a boss. Everybody in the industry has met a service representative employee or clinician that the patients absolutely love and employers and supervisors usually realize that employee is worth their weight in gold.
DME owners frequently talk about how to instill this ethic in their employees and admit that its more difficult than any other aspect of job training. But it can be done. Most owners, managers, and supervisors say that the way this is reinforced and incentivized is by establishing a culture of customer service from top to bottom. When employees see that the boss is committed to this himself or herself, they tend to be more likely to foster the same culture and the same priorities. Furthermore, knowing that they are empowered to do whatever it takes to satisfy a customer --even if it takes more time or costs more money—can help employees develop the important skill of keeping your customers as satisfied and happy as possible.
So, make sure your employees know how important it is for the company to put its best foot forward and provide a positive experience for all customers. Make sure they know they can go across the street to the supermarket and get a quart of pistachio ice cream—if that's what it takes--a simple task that pays off immeasurably in terms of customer service.