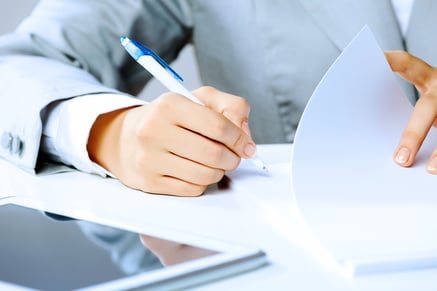 I remember filling out paperwork for the first formal job I ever had – a dishwasher and busboy for a restaurant. Some family friends owned the restaurant, so the paperwork was a formality. I remember that it included an application and some kind of a note from my parents since I was under 16 years of age. I didn't have a driver's license or a passport, so it's anybody's guess what I used for identification or if they even asked for it. I also remember that the simple paperwork seemed intrusive and complicated.
Well, more years later than I'd care to admit, the paperwork requirements for human resource or personnel files have increased exponentially. As a respiratory therapist seeking employment, I've been subjected to drug tests, background checks, and dozens of pages of data collection for applications, acknowledgements, and reviews.
Certainly, employees and employers alike feel the requirements for information collected and maintained in a personnel file are bureaucratic and cumbersome. There are advanced degrees with specialization in human resource management. Fifty years ago, "human resource departments" were for huge conglomerate corporations—places that employed hundreds or thousands of employees. Today, because of the complexity and importance of the requirements, companies with just a dozen employees often have a human resource manager or at least a designated management position that oversees all human resource functions.
In the DME industry, the requirements for exactly what information needs collected and maintained come from a variety of sources including regulatory agencies such as state DME and pharmacy boards, law & regulation, and the CMS Quality Standards. And of course, from your friendly neighborhood accreditation body.
At HQAA, the standards addressing human resource files are contained in a separate "block" or set of standards. These standards are termed "HR" and there are eight of them. For the most part, they are straightforward requirements, but organizations sometimes have difficulty understanding how to implement them. The basic requirements are contained in this checklist, which can be utilized as an audit of the personnel files at your organization.
A checklist of required documentation that needs to be contained within your personnel files includes:
An application
Letters of recommendation, references, and interview notes
A background check (if required by your state and/or your own internal policy)
A signed job description, which should contain descriptions of physical requirements for job/position
Orientation documentation (typically a checklist form)
Competency assessment documented before the new employee begins to work independently and annually going forward
Performance evaluations (different than competency assessments, these are typically more general and address general requirements such as showing up to work on time, etc.)
I-9 form with supportive documentation, such as passport or birth certificate and driver's license
Driver's license (for any employees driving company vehicles or driving their own vehicles on behalf of the company)
Hepatitis B vaccine information or declination (an OSHA requirement)
Additionally, keep the following items in mind:
All healthcare records and "sensitive" information should be separated. This includes any documentation of a date of birth, insurance physicals, drug testing, and Hepatitis B vaccine information. Separation can be something as simple as storing the healthcare records in an envelope within the same filing area, or storage in a totally separate filing area.
Make sure all forms and acknowledgements are dated and signed by the employee and employer.
Competency assessment should be performed by a similarly qualified, competent individual. For instance, an RT doing clinical work should have their competence assessed by another clinician. If you're organization only employs one RT, you can use an RT from outside your organization.
Set up a tickler file to ensure that all driver's and clinical licenses and registrations are up to date and current. Check expiration dates every time you audit an HR file.
Make sure your organization has a designated person responsible for the HR functions and files. They should perform routine audits of the HR files to ensure they are complete and up to date.
Finally, remember to respect the rights of the employee and keep the information contained in the HR files confidential and protected. Access to these files should be on a "need to know" basis and limited to manager/supervisors.