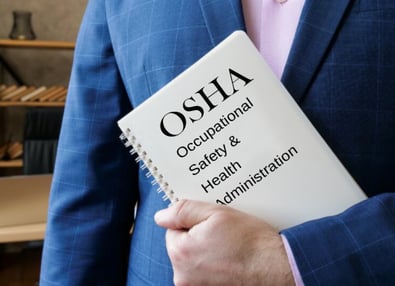 Many durable medical equipment company employees equate "OSHA" with those plasticized posters typically hung in a breakroom or kitchen in the organization. Training requirements by both accreditation standards and OSHA itself have gone a long way to educating employees about the various OSHA mandated requirements and led to a better understanding of OSHA. This in turn has led to better adherence to the rules and regulations and ultimately to a safer workplace.
"OSHA" is the Occupational Safety and Health Administration, a division of the United States Department of Labor. It is important to understand that OSHA is the federal government and their standards and regulations are essentially the law. OSHA requirements can be enforced by a variety of agencies. To some extent, accreditation providers are expected to police the standards as they relate to the DME industry. OSHA is responsible for workplace safety of all kinds and in healthcare organizations --DME organizations specifically—workplace safety takes in a lot of territory. It includes warehouse safety, infection control, mitigating risk through staff education and the provision of personal protective equipment (PPE). It is N-95 masks, gowns & gloves, first aid kits & eye wash stations. OSHA is why organizations are required to offer Hepatitis B vaccinations to employees with patient contact. And yes, it is those posters in the lunchrooms (more on that later).
When DME organizations fall out of compliance with various OSHA requirements, they can be cited at several different HQAA standards, depending on the nature of the noncompliance. Some of the more common standards cited for OSHA noncompliance include:
ORG 2—General "catch all" standard that is cited when an organization is not compliant with any law or regulation.
HR 5—Standard that requires annual in-service education (including OSHA required topics such as safety and bloodborne pathogens training).
ICS 2—Covers exit signage & strategies, placement of first aid kits, and eyewash kits.
ICS 3—Standard requiring the issuance of PPE to appropriate staff. Also covers safety data sheets.
ICS 4—Requires policy & procedure for OSHA compliance and safety. Also formalizes the requirement for Hepatitis B vaccines being offered.
DEL 2—Safe delivery process standard.
There are certainly other standards that may be cited if you stray from complying with OSHA standards, but these are the most common.
Complying with OSHA standards is important not only to maintain accreditation, but also to protect staff, as well as patient/customers and the general public. It's very important that staff is aware of the standards and the importance of compliance. Compliance should be integrated into procedures and protocols and should be a top priority. To stay on top of the requirements, use this checklist. While not completely comprehensive, it "hits the high notes".
Hep B Vaccines: Make sure any staff that has patient care contact has been offered the Hepatis B vaccine. Document the vaccine in their personnel file. If a staff member declines the vaccine, be sure to document the declination with a signed form.
First Aid Kits: Place them in common sense places like the warehouse, repair and cleaning area, and on the retail showroom floor. If there are contents in the kit that expire, monitor the expiration date and replace when expired.
Personal Protective Equipment (PPE): All employees that clean equipment, pick up dirty equipment, and have contact with potentially infected patient/customers should have access to gloves, gowns, eye protection, and masks. Paper masks work for general use, but with certain airborne diseases like tuberculosis, staff members should have a fitted N-95 type mask. The mask should state that it is "NIOSH approved".
Eyewash Station: Staff should have access to either running water or an eyewash station anywhere that cleaner/disinfectant is used. This includes the cleaning area in the warehouse. If staff does curbside decontamination, they should have eyewash in the delivery vehicle.
Staff Education Regarding Safety & Infection Control: All staff should receive yearly education on safety topics and infection control. Safety topics might include warehouse safety, use of PPE, lifting and carrying, and even staying safe in patient/customer homes. Infection control topics include education about various disease processes and bloodborne pathogen training. Be prepared to show documentation of the education.
Exit Route Strategies & Exit Signs: Exit signage (signs about the exit doors that typically light up in the dark) and exit "strategies" (those "you are here—exit route this way" signs) should be posted and functional.
Hazard Communication Standard: The organization is responsible for communicating to staff any hazards in the workplace, along with how to safely work around the hazards. For instance, when chemical disinfectants are used that have hazard potential, the staff should be aware of how to safely handle the chemicals. Communication about chemical disinfectants takes the form of so called "Safety Data Sheets" (SDS), which the organization should obtain and post in areas where the potentially hazardous chemicals are being used.
OSHA Poster: These are the plasticized posters, typically displayed in lunchrooms or break areas, that advise employees of their rights with regards to workplace safety. They are generally required for organizations with ten or more employees. If you have less than ten employees, you AREN'T exempt from OSHA safety standards; but you are exempt from the requirement to display the poster and certain tracking requirements that are expected of larger organizations.
When some DME owners and managers hear the word "OSHA", they immediately (and only) think of that poster. Think of that poster as the tip of an iceberg—the visual representation of a comprehensive body of standards and requirements that lie below the surface. By all means, display that poster, but remember to understand the requirements that go along with the poster as well.
For more information on OSHA compliance, visit their website www.OSHA.gov.