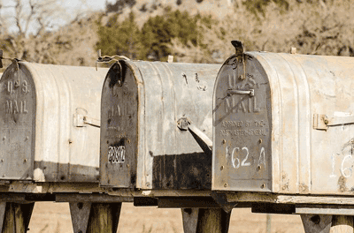 It's tempting to believe that those Amazon trucks that zip down your street every day are a completely new phenomenon. But if you believed that, you'd be wrong. Today, Amazon trucks descend on neighborhoods bringing appliances, clothes, books & music, and even groceries. A generation earlier, we ordered music from flyers in the newspaper—carefully selecting stamps with our favorite titles and sticking them on the order page, promising to buy four or five additional albums in return for a half dozen free ones up front. And the generation before that ordered small appliances and kitchenware from Jewel T men. And the generation before that could order up a mail order "kit house" from the Sears Roebuck Catalog. Truth be told, mail order is as old as the mail itself. Subsequent generations have refined the practice over the last century and a half; but the practice of mail order anything is not new!
Mail order is a convenient and efficient way for companies to process and deliver sale items. It is also extremely convenient for the customer on the receiving end. Men and women no longer need to go to the store (an antiquated, old fashioned practice, according to the mail order businesses) to obtain products and consumer goods. You can order from the safety, security, and privacy of your home and product arrives—often in as little as a day.
It was only a matter of time before someone realized that the mail order model could work for medical equipment and supplies. And mail order DMEPOS delivery is here; alive and well, and in fact thriving in a post Covid world.
Supplying any kind of medical equipment, supplies, or service to the home via a mail order model comes with challenges, but it also has advantages. For the customer, it is convenient, quick, and private. For the company providing the DMEPOS, it can be efficient and save man hours of labor and time as well as the costs associated with driving to a person's home to deliver product. There are countless DMEPOS providers that exist solely on the mail order model. Urological and ostomy supplies, diabetic testing products, and disposable supply companies can send product nationwide from their warehouse. In fact, some companies utilize drop shipping, the practice of buying supplies or product from a manufacturer or distributor and having it shipped directly to the end user. This bypasses the provider and allows them to operate with no or smaller warehousing capabilities and eliminates a step in the process that adds days to the process, thereby streamlining timeliness and efficiency.
As our society plodded along through Covid, many DME organizations added mail order options to their delivery services and those that had processes in place for mail order found themselves doing more and more of it. "Porch deliveries" became a common practice and customers who would not have chosen mail order suddenly found themselves preferring the low/no contact mail order option. Today, many companies use a mail order process to increase their service area, add product lines, and give their customers more flexibility and options. CPAP, mobility devices, braces and off the shelf orthotics can all be mail ordered easily.
Mail order comes with some unique challenges. Providers that offer mail order need to be mindful of these challenges and set up logistical procedures that address them. Challenges that need to be considered include:
Acknowledgement of delivery AND education. You may need to be able to prove that the product was delivered (easy enough with delivery tracking technology and having the customer or caregiver sign for the product delivery) and also that you educated the customer on all the things you typically educate customers about during a standard in-home delivery.
How do you educate? Many companies offer on line videos, Zoom meetings/video conferencing, and "old school" paper education packets shipped with product.
Efficiency in ordering product. You'll want to make ordering product as seamless, easy, and efficient as possible. Some customers will want to call in, many will be happy to go on line and place their own order. Some may need to be called to remind them it's time to order more supplies. As easy as that sounds, your company will have to be careful to adhere to Medicare (and other payer source) non-solicitation rules and guidelines.
Customer service should not be compromised because you are doing mail order. Customers still want to be able to reach a human being. Don't let quality customer service slip because you're moving to a mail order delivery model.
HQAA has a section specifically devoted to mail order policy & procedure. Standard MO 1 (MO = "Mail Order") lists out the requirements for companies providing mail order services. The requirements are straightforward and in place to guide your company in establishing a mail order process that doesn't compromise care and remains compliant with law, regulation, and payer requirements.
Your mail order process should:
Provide educational materials with the shipment. Educational materials include product instructions, care and maintenance, as well as contact info for your company.
Include a tracking mechanism that provides proof that product was delivered and that delivery occurred within an acceptable timeframe.
There should be a clear process for return/replacement of product and that process should be explained to the customer.
The customer should be made aware and acknowledge that they understand all costs, whether they are paying out of pocket or via an insurance. They should be made aware of shipping and/or handling charges as well.
The company should have written policies & procedures describing their mail order services.
The company should have paperwork that documents receipt of required information, forms, and signatures.
The HQAA survey process for your company's mail order services begins when your company is submitting information into the workroom. You'll be asked if you provide mail order services. If you do, you'll be prompted to submit policies & procedures for review by a coach. Later, when the surveyor is onsite, expect to face questions about the process and be prepared to describe how the process works. Expect that the surveyor will want to look at documentation of tracking and a sample of the paperwork you send out with product. Also expect that the surveyor will review patient care records, looking for delivery confirmations, tracking information, acknowledgement by the customer of educational materials, a physician order (depending on the type of equipment or supplies) and billing information.
Don't be afraid to offer mail order services. But make sure you are doing it right. Make sure you follow the regulations and standards of practice and make sure your mail order services deliver the same high quality of customer satisfaction and standards of care as the other delivery services you offer.