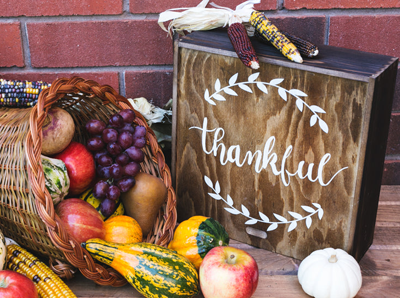 In early November, each year, our minds turn to Thanksgiving. No surprise that Thanksgiving ranks as one of many American's favorite holidays. It's a time of positive reflection, a time to literally give thanks for all the blessings in our lives, and the gateway to the triumvirate of important holidays (Thanksgiving/Christmas/New Year's Day). And then there's the food: a grand feast of turkey, ham, stuffing, cranberry sauce, mashed potatoes, rolls, and pecan and pumpkin pie. For many people, it's a glorious four-day weekend of eating, watching football games, visiting with family and friends, and reflection on the past year.
In our industry, and in our individual businesses, perhaps it's a little more challenging identifying and reflecting on things we have to be thankful for. Let's be frank: it's been a tough couple years. Declining reimbursement, challenges with competitive bidding, staffing shortages, a global pandemic, equipment recalls, supply chain interruptions, and the cost of gasoline have all wreaked havoc on our daily lives. While some might say "it's been tough all over," the truth of the matter is that our industry has been dealt a tough hand over the last decade or so.
There are some bright spots though, and I'm happy to report that many organizations are enjoying a time of relative prosperity and satisfaction that we haven't experienced in quite a while. As I work with DME organizations, owners and managers have an attitude that we are coming out of this tough period in our history. While many organizations are gone -– either shuttered and closed, or sold/acquired/merged -– the ones that are left are enjoying and celebrating their strength, resilience, and prosperity.
As an industry and as individual companies, what do we have to be thankful for? I posed that question to a cross section of organizations that I surveyed or worked with over the last few months and came up with some rather optimistic "good news" in their responses. Here's some of the things they are thankful for:
The Pandemic is Over
Well, maybe not "over", but we've learned as a nation and as an industry how to deal with it. In many cases, we've changed our delivery models. Porch deliveries, using technology to do virtual set ups and patient instruction, social distancing in our retail stores, and staff working remote/from home have all become normal and commonplace. Some owners actually report that staff have higher job satisfaction because they are able to work remotely. Many patient/customers appreciate and prefer the contactless customer service. And beyond our own companies, the entire nation –- and world -– have adapted and grown used to working around Covid. "The pandemic might not be over, but it's become manageable" reported one DME owner I spoke with.
The Supply Chain is Moving Again
Our sluggish supply chain is slowly but surely getting back to normal. During the pandemic, news reports showed lines of cargo ships sitting in the Pacific Ocean waiting to dock in Long Beach. Whatever the reason, the unprecedented delays seem to be resolving. DME organizations are getting their supplies and equipment. Our organizations have learned from the experience. Most companies report that they now stock (and stockpile) more backup equipment and more supplies than they have in the past. Increased competition is at least partially responsible for this fix. Many suppliers saw a need and jumped into the business of order fulfillment. This competition has helped as our organizations now have more options.
Strong, Loyal Staff
Chalk it up to Covid or a declining work ethic in our country, but it's been a rough go trying to recruit and retain staff. Regardless of whether it was a good idea or not, pandemic relief incentivized employees to stay home to at least some extent. DME employees — about as "essential" a service as you can name — saw their peers in retail establishments and restaurants paid to stay home. When a person said they were exposed to Covid, they were asked to stay home for a period of time. It made staffing very difficult and, in some cases, impossible. The good news here is that the staff we are left with post pandemic is stronger and more loyal than ever! They are the employees that want to be there and that are committed to providing quality care to our customer/patients.
Making Headway with Equipment Recalls
The massive PAP equipment recall could not have happened at a worse time. With a pandemic ripping through our country, a major manufacturer of PAP devices announced one of the biggest equipment recalls in the history of the medical device industry. Providers were left in the awkward position of being the bridge between disgruntled, frustrated customer/patients and a manufacturer charged with recalling millions of PAP machines. Almost two years into the recall, providers report that they see light at the end of the tunnel. The supply of new machines is starting to open up and other manufacturers have ramped up production to help fill the need. The story continues, but it looks like providers are finally catching up in terms of their inventory levels and in terms of facilitating the recall.
A "New Enthusiasm"
Organizations report that they're optimistic about the future once again. As one DME owner put it: "I can actually see myself growing again. In 2020 and 2021 and for early 2022, I was floundering with no direction. My goal was to stay afloat and keep my head above water. Now, in the second half of 2022, I'm actually looking at expanding, doing more marketing, and thinking about new opportunities. Life is good and I'm growing the business once again." This "new enthusiasm" seems to be spreading. Tradeshows are live events (as opposed to virtual) once again. Accreditation rules and CMS mandates are returning to normal as well — including some of the payer requirements that were on hold. The masks are off (figuratively, at least) and we're back to work full steam ahead.
So, we do have some things to be thankful for as Thanksgiving 2022 approaches! Take time this month to consider all we've been through and how tough the last few years have been for our industry. And appreciate all that we have now and all that we have the potential to achieve in the future. Happy Thanksgiving, everybody! Now, please pass the pumpkin pie.