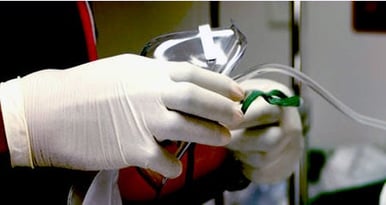 Imagine how hard it would be to adequately assess whether a person could do some specific task (such as teach school, perform surgery, re-wire a house's electrical system, or build a bridge) without actually observing them doing that task. We hire employees based on applications and resumes, we evaluate their performance in a job by checking their attendance record to insure they show up to work on time, and we monitor a delivery person's driver's license or a clinician's clinical license to make sure they haven't expired or been revoked. But no tool works as well to assess a person's ability to do their job as well as actually watching them do their job. Competency assessments are an integral part of the evaluative process and some would say, THE most important part of that process. If you are hiring a marksman for their ability to hit a target, at some point, you're going to go out into the field and say "Show me what you've got!"
In healthcare, competency assessment is crucial. In hospitals and other healthcare facilities, it is common to have a "skills fair" where employees come in and demonstrate that they can do CPR, start an IV, take a blood pressure and pulse. Jobs that require driving often have an annual assessment of driving skills where an observer rides along to watch how well a person does at driving.
Accreditation standards dictate that an organization has a consistent and organized program to assess competence. The assessment is typically done at hire and on an annual basis. Although accreditation allows some latitude in how an organization does this assessment, it should always involve direct observation of an employee doing the tasks they do for their job/position. Often, that observation takes the form of a ride along where an employee does their job (whether it's a clinical task, patient education, or delivery). The person who actually performs the assessment is sometimes the supervisor, but it is also possible to have employees do "peer to peer" evaluations. In fact, the person doing the assessment is sometimes a person who works outside the organization, particularly in the case of clinicians doing clinical tasks.
The documentation of the competency assessment should outline the task at hand. In the case of a delivery technician setting up a piece of DMEPOS, there might be a checklist of tasks that the procedure would normally include, such as:
Gather the equipment and supplies needed for the delivery
Load the vehicle appropriately and gather appropriate paperwork
Contact the patient/caregiver to set up a delivery time
Wash/sanitize hands prior to going into the home
Introduce themselves to the patient/caregivers
Demonstrate equipment use, care, maintenance, cleaning
Observe return demonstration by the patient/caregiver
Fill out and explained all paperwork; obtain signatures as needed
Wash/sanitize hands after being in the patient home
Understands infection control procedures and has proper personal protective equipment/supplies on board the vehicle
Documents visit and logs mileage/time per the organization's policies/procedures.
The person doing the assessment would ideally observe all the items on the checklist and make comments and critique the employee's performance.
HQAA has a specific standard, HR 2, which outlines the requirements for an organization's competency assessment process. The standard states:
The organization describes in policy their program to ensure that only competent personnel provide direct patient/client services for the organization. Competency must be evaluated through direct observation. Technical personnel shall be competent to deliver and set-up, train, maintain, and troubleshoot equipment/items for patients/clients and/or caregivers. Professional personnel shall be licensed, certified, or registered and function within their scope of practice as required by the state standard under which the professional is licensed or certified. The supplier shall maintain current copies and other verification of licenses, registrations, certifications, and competency assessments.
As your organization designs and implements your program, be sure to consider the following:
Competency must be assessed at hire and annually.
Competency must assess the actual tasks that a person will be doing given their job description and position within an organization.
Documentation of the assessment should be signed by both the employee and the evaluator.
The evaluator must be competent to perform the tasks that they are evaluating. For instance, a clinician who performs clinical tasks should have their competency assessed by a "similarly qualified" evaluator. For a respiratory therapist doing clinical respiratory services, this generally means you'd want another RT to do the assessment.
When outside evaluators are used, be sure to keep a credential file on the evaluator. In other words, if you use an RT from outside the organization, have a copy of their license available.
The competency assessment program itself should be evaluated at least once every two years. This is a good time to review the forms you are using to document the competency assessments and also the tasks you are observing in the evaluations. Any new products or services that need to be included? This requirement is in place to make sure you consider these new products and services.
When the surveyor visits your organization, expect them to assess the program by reviewing the policies & procedures relating to your competency assessment program. Also expect that they will interview staff to ensure they are actually competent. This is done by doing a ride-along and observing patient care, equipment set up, and/or deliveries. With the pandemic, surveyors often ask staff to do a "mock set up" and demonstrate how they set up equipment without actually going out to a patient's home or on a delivery. Finally, the surveyor will be looking for the documentation of the competency assessments in the human resource file.
An anonymous business philosopher once said, "If you think you can do it, that's CONFIDENCE. If you can actually do it, that's COMPETENCE. Both are needed for success." Don't take competency for granted or assume staff continues to be competent through the years. An annual checkup to ensure that competency is there (or is still there) remains an important monitoring tool to help make sure the human resources you've invested in are still doing their job and keeping the business successful.