3/10/2023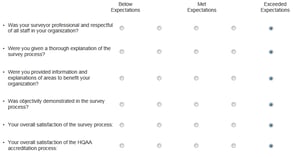 As the old saying goes, "if it ain't broke, don't fix it."
The entire experience was absolutely well done and Steve DeGenero is an expert in his field. He left us with a feeling of accomplishment and satisfaction that we are recognized in attemping to do the best we can.
Accreditation is a process that should give guidance and solutions for us to do the very best we can in our organization, and it certainly fills the bill.
I have had nothing but positive feelings and believe this is our 4th time with your organization. Will do it again in 3 years.
Tori Boelman was a dream to work with and gave terrific guidance thru the workroom process.
Thanks HQAA AND ALL THE PEOPLE WE WERE IN CONTACT WITH.
S.A. MAHER, INC
Berea, OH