8/16/2019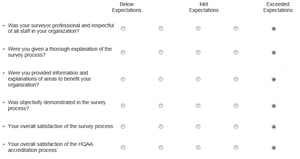 The process of sending policies and procedures online prior to physical survey allows for a much smoother process. Any variances are immediately addressed and corrected. Makes so much sense.
The physical surveyor was polite and thorough. She was able to give some pointers to improve the services. Very much appreciated.
Overall, the process focused on improving the services offered. All staff encountered were friendly and helpful.

iV Rx, Inc.
San Antonio, TX