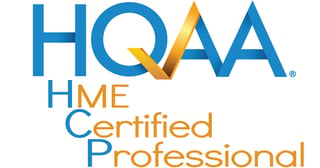 A HME Certified Professional (HCP) is an individual who demonstrates a commitment to their organization and the HME industry. The HCP takes ownership of their professional development to gain a general knowledge of the HME industry. This includes a general knowledge of intake and prescriptions, fraud waste and abuse, business ethics, HIPAA, Infection control, and compliance. The HCP utilizes knowledge obtained through education to assist patients and coworkers to support the best practice in the following areas:
Obtains client/caregiver information
Validates prescriptions
Validates benefits
Complies with federal, state and local
Provides proper delivery and set up of the equipment
Ensures the home environment is suitable and safe for proper usage of the equipment
Trains patient, families and caregivers on the proper use and maintenance of the equipment
Educates patients and caregivers of their rights and responsibilities
Provides the appropriate equipment and supplies to meet applicable standards and guidelines
Manages inventory
Complies with universal precaution procedures and OSHA rules
Documents plan of care
Adheres to legal and ethical practices
Requirements
Individuals begin the certification process by completing the required assigned coursework. Once the coursework is complete, the individual will take a written multiple choice exam administered by Healthcare Quality Association on Accreditation, Inc. (HQAA). Upon successful completion of the exam the individual will be awarded a 2-year certification by HQAA.